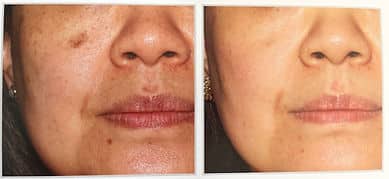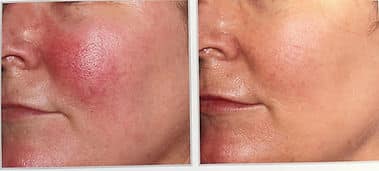 BBL HERO Laser
- In Edgewater, MD -

What is BBL HERO Laser Treatment?
BBL not only stands for Brazilian Butt Lift, it also stands for Broadband Light. While, BBL (broadband light) is not going to lift your butt, it will rejuvenate your skin. BBL can restore your skin, make it smoother, brighter, and more vibrant.
Broadband light (BBL) and intense pulsed light (IPL) skin treatments are white light therapies aimed at resolving a wide range of pigmentation concerns, revealing a brighter and more even skin tone. They address common skin concerns associated with hyperpigmentation or discoloration from photodamage and aging, including active acne, acne scars, sun damage, redness, rosacea, vascular lesions, wrinkles and more. These treatments are gentle on the skin, require little to no downtime and typically work best in a series of three treatments spaced several weeks apart.
​BBL, or broadband light therapy, is an advanced type of IPL, or intense pulsed light. Cutting-edge BBL treatments offer many advantages including the ability to treat active acne, relatively long-term results, and safer for darker skin tones compared to other IPL treatments.
​Sciton's BBL HERO (High Energy Rapid Output) holds a few key differences compared to BBL. With BBL HERO we can treat the entire body. That's right, not only do you get facial rejuvenation, we can remove browns and reds from your neck, chest, arms, hands, legs, back, and belly! BBL HERO has 3x the power of BBL alone and it's 4x faster! That means a more even, stronger, and faster treatment than BBL alone. Because of it's speed and power, BBL HERO is more comfortable than BBL or IPL.
Benefits of BBL?
BBL/IPL treatments work by directing light into the skin. There, the light energy is converted to heat, which is absorbed by the targeted skin tissue and pigment. This breaks up existing unwanted pigment, which is gradually removed from your body through its natural processes, as well as triggers your skin's natural healing and rejuvenation process to reveal a smoother, brighter and more refreshed-looking complexion. BBL takes healthy skin rejuvenation to the next level. It works well for the following conditions:
Hyperpigmentation, brown spots, dark spots, sun spots, photodamaged skin
Age Spots
Vascular lesions
Spider veins, telangiectasias, broken capillaries
Rosacea
Uneven skin tone
Uneven skin texture
Acne
Fine lines and wrinkles
Improve skin elasticity/ loose skin
Most everyone can have BBL. Ideal candidates for BBL or BBL HERO are those that have unwanted brown or red spots or pigmentation on the surface of their skin, often caused by years of sun damage. BBL HERO is the best option for patients who have plateaued with the results of traditional BBL and for patients who desire to reverse signs of premature aging and sun damage on their chest, arms, hands, legs, and back. BBL is best for patients who have fine lines and wrinkles, brown spots, pigmentation, or freckles on their face and neck.
Before we begin, we decide which comfort enhancer you prefer. BBL feels like a rubber band snap to your skin. We can numb with topical lidocaine, apply cooling via either ice pack or cold air, or we can use ProNox. Your skin is cleansed and your comfort enhancer applied. The BBL handpiece will use rapid bursts of high-intensity light filtered to the wave length appropriate for your skin's needs. Your treatment will last about 5-30 minutes depending on the treatment area. After the treatment, moisturizer and SPF 50 are applied.
There is minimal to no downtime with BBL HERO treatments due to the higher energy output vs BBL or IPL. Expect to have some redness, and darkening of pigment in the treated area. Redness should subside within 2-4 hours. Pigmented lesions, will continue to darken then disappear in the following 7-14 days.
You can apply makeup and return to your daily activities if you need to. You will be sensitive to sunlight for 4 weeks. It's imperative to apply SPF 50 every 2 hours while outdoors.
Within 2-3 weeks, you will see a noticeable difference in your skin's clarity, tone, and texture. Your skin may feel softer and smoother. Redness will disappear and darkened brown spots will flake off. Subsequent sessions should be scheduled to continue your treatment plan. Expect to see results gradually develop over the coming weeks and months.
Schedule your consultation. We'll work with you to identify if BBL HERO is right for you and your needs. The following are contraindications to receiving BBL HERO laser services:
Self-Tanner, sun or tanning bed exposure in the treatment area. Treating tanned skin can lead to a high incidence of epidermal reactions, blistering and pigmentation abnormalities. Avoid sun for 3-4 weeks BEFORE treatment, and Self-Tanner for 14 days BEFORE treatment.
History of abnormal response to sunlight
Use of photo-sensitizing medications or drugs
Use of isotretinoin (Accutane) with the last 6-12 months
Pregnancy
Medical conditions that may affect wound healing
Use of anticoagulant medication or heavy Aspirin use
Active infections and/or compromised immune systems
Tanned skin (see first bullet point)
History of skin cancer, especially malignant melanoma
History of keloid scar formation
Skin Type VI (six)
Active cold sores or herpes simplex (We pre-medicate to prevent breakouts.)
One week prior to treatment:
Stop using Retin-A, Renova, Differin, and other active skincare products for one week prior to treatment.
Please inform us if you have any history of "herpes", "cold sores", or "fever blisters". In such instances, we recommend taking Valtrex 500mg, 1 tablet twice a day for 5 days starting on the day before the laser treatment. Like sunlight, laser light may cause a cold sore or fever blister leading to more serious complications.
Shower as usual

Do not apply any lotion, powder, oils or other products to treatment areas

Cleanse the areas being treated and do not apply makeup

If you have long hair bring a hair band to pull it back
Intense burning, redness, warmth, and a sunburned sensation are normal responses following BBL™ treatments. The discomfort and redness generally last 2-4 hours after the procedure. Cool compresses with a damp, soft cloth for 10-20 minutes at a time may help relieve the temporary discomfort. Ibuprofen, Advil, Aleve, Motrin, or Tylenol can be taken as directed for pain.
Brown patches or spots will look darker and more pronounced immediately following BBL™ treatments. In 2-3 days, these brown areas become even darker and frequently feel scaly like coffee grounds on your skin. Within 1-2 weeks, these dark, scaly areas fall off and leave new, healthy skin behind. NO MATTER HOW TEMPTING, DO NOT PICK OR SCRUB THESE BROWN SPOTS—LET THEM COME OFF ON THEIR OWN!
Twice daily use a healing, non-irritating moisturizer such as Epionce's Renewal Facial Lotion is recommended during the first week to help heal the skin.
Avoid use of topical active skin care products containing retin-A, retinol, glycolic acid, or salicylic acid for 1 week.
Makeup can be used if there is no blistering. Caution should be used when applying and removing makeup. The treated area may be delicate and should be treated with care.
If the skin is broken or blisters appear, apply an antibiotic ointment and notify our office. The area should be kept lubricated with Vaseline petroleum jelly or Aquaphor to prevent crusting or scabbing of tissue.
Some patients will wake up with facial swelling, particularly around the eyes for several days following the treatment. This is normal and usually resolves within 3-5 days.
PROLONGED SUN EXPOSURE IS TO BE AVOIDED FOR 4 WEEKS BEFORE AND AFTER TREATMENT. A total sunblock containing zinc oxide or titanium dioxide should be applied daily if you are in the sun. If further treatments are needed, a commitment to stay out of the sun is necessary. Sun exposure may cause certain complications such as severe blistering and permanent skin discoloration.
For patients who have a history of frequent cold sores, you should be taking an anti-viral medication such as Valtrex for 5 days starting on the day before your treatment.​