What are Dermal Fillers?
Dermal fillers are a gel-based hyaluronic acid product used to enhance our facial features. Our faces have natural fat pads that provide us with that youthful, supple appearance. As we age, those fat pads diminish and migrate leaving us with loose skin and jowls. Additionally, our facial bones demineralize over the decades leading to a concaved or sunken-in appearance. A great example of this can be seen when comparing a normal weight woman or man in their 20's to a normal weight woman or man in their 50's and 80's.
Dermal fillers offer a non-surgical and no downtime way to restore a more rejuvenated appearance. Dermal fillers are relatively safe. At Youthful Obsession, we use the RHA® Collection, which is designed to give natural looking results.
What Do Dermal Fillers Treat?
Dermal fillers treat volume loss. When our bones demineralize and fat pads dissipate, we're left with wrinkles. In our 20's, our body's cells that produce collagen begin to shut off and we loose 1-1.5% of our natural collagen production each year. Dermal fillers replace the volume loss to help erase fine lines and wrinkles, restore facial volume, and enhance your lips and perioral area.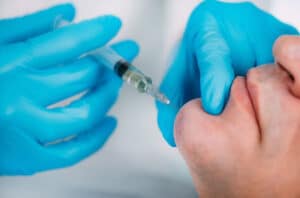 Areas treated with dermal fillers include:
Temporal Hollowing
Cheek Augmentation
Tear Trough
Nasolabial Folds (Smile Lines)
Lip Augmentation
Jawline Augmentation
Chin Augmentation
Multi-Point Lift
Necklace Lines (Tech Neck)
Facial Rebalancing
When you arrive for your appointment, we'll discuss your goals, then develop a treatment plan to meet your needs. We want you to feel comfortable and excited about your procedure. Let us know any concerns you have, so we can address them.
The procedure is relatively quick and easy. Topical and injectable anesthetic, lidocaine, can be used to minimize any discomfort. The time and amount of dermal filler needed will delineate the amount of time the procedure will take. These injections have no downtime, so you may enjoy the rest of your day.
Avoid vigorous exercise, alcohol consumption, and massaging or pressing the treated areas for at least 24 hours.
If you haven't already, now is a good time to commit to diligent and daily use of a SPF 30+ sunscreen.
Results are immediate. Certain fillers will continue to swell, then balance out. This process can take a few days to a week. Results are natural looking and last 6-18 months depending on the product used and area treated. You're going to love your rejuvenated appearance!
One week before exclude: Aspirin, NSAIDs (Advil, Aleve, Ibuprofen, etc.), Gingko Biloba, garlic, flax oil, cod liver oil, paracetamol, St. John's Wort, vitamin A, vitamin E and any other essential fatty acids. This will help decrease the risk of bleeding/bruising.
Avoid chemical peels, lasers, microneedling, and other facial treatments 1 –2 weeks prior to dermal filler treatment.
No alcohol use at least the day before, day or, and day after dermal filler treatment.
If you get cold sores, ask your provider for a prescription to prevent cold sore breakouts.
Immediately after your procedure and for 24 hours you should avoid the following:
Strenuous Exercise
Sun exposure/heat exposure/tanning beds/ hot showers/ saunas
Alcoholic Beverages
Massaging/pressing areas treated
Extreme cold temperatures
48 hours after your procedure you may begin adding Gingko Biloba, garlic, flax   oil, cod liver oil, vitamin A, vitamin E or any other essential fatty acids.
If laser treatment, chemical Peel, or any other facial procedure is considered after dermal filler treatment, the risk of eliciting an inflammatory process may be possible. Consider such treatments 1-2 weeks before and/or after dermal fillers.
Smoking- this can lead to delayed healing, move product, and cause infection.
Drinking from a straw can move product.
Don't fly for a week post-dermal filler treatments. The air pressure changes can worsen swelling and bruising.
Spicy foods can cause a burning sensation after dermal filler treatments
Follow the lip massage instructions provided to you by your provider.
Drink plenty of water and eat water rich fruits and vegetables
 Sleep with an elevated head of bed to help with swelling and decrease the risk for bruising.
Ice the treatment area to help with discomfort, swelling, and bruising. Do not leave the ice on for longer than 10 minutes at a time and always have a barrier between the ice and your skin.
Arnica tablets can help with bruising. You can get this OTC and take it according to the package recommendations.
If you are prone to cold sores, please take your antivirals according to your provider's recommendations.