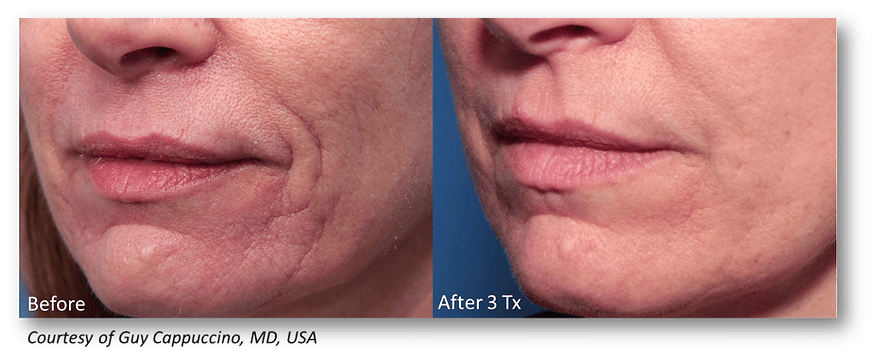 What is RF Microneedling?
Before your skin can regenerate healthier tissue, it must encounter an injury. Microneedling creates millions of tiny channels (controlled micro-injuries) in your skin to stimulate your body's natural healing response. This leaves you with healthier, rejuvenated skin. Using products like stem cell cytokines and growth factors or hyaluronic acid (HA) over the microchannels, will augment the repair response and leave you with a healthier and more supple glow, while boosting your natural collagen and elastin production.
​RF (Radiofrequency) Microneedling takes microneedling to the next level. The needle tips are titanium gold-plated insulated needles that transmit RF energy between themselves and the tissue surrounding the needle tips. This stimulates more significant tissue regeneration than microneedling alone. At Youthful Obsession, we use the Lutronic Genius® RF device. The Genius® RF is, hands down, the best RF microneedling device on the market.
Lutronic Genius® is an FDA-approved device that delivers precision in every pulse. Exact depth is impeccably achieved with superior needle and handpiece design, ensuring consistently brilliant results on face, neck and body areas. Pinpoint coagulation zones are achieved while maintaining maximum patient comfort through Real-Time Impedance Monitoring. The Real-Time Impedance Monitoring, ensures the exact depth and energy are delivered. The instant data feedback system, Intelligent RF Delivery" gives instant automatic adjustments based on your skin and energy needs. Since the energy bypasses the epidermis and is delivered in the dermal layer of skin, it's safe for ALL skin types.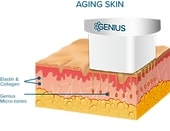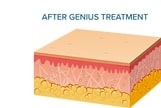 Benefits of RF Microneedling?
Microneedling regenerates healthy skin and boosts collagen and elastin. RF microneedling takes healthy skin regeneration to the next level. It works well for the following conditions:
​
Reduce the appearance of scars, including acne scars
Reduce the appearance of fine lines and wrinkles
Reduce pore size
Reduce the appearance of hyperpigmentation, dark spots, or brown spots
Smooth uneven skin tone
Improve skin elasticity/ loose skin
Reduce the appearance of stretch marks
Promote hair growth in people with alopecia
When you arrive for your appointment, we'll discuss your goals, then develop a treatment plan to meet your needs. We want you to feel comfortable and excited about your procedure. Let us know any concerns you have, so we can address them.
We apply numbing ointment for 45 minutes prior to the procedure. After numbed, your face is cleansed and the procedure begins. Depending on the areas being treated, it should take about 45 minutes to complete all passes. The Zimmer Chiller is available to minimize discomfort during the procedure. After the procedure, we'll review the home care instructions with you. If you have any questions, do not hesitate to ask.
Recovery takes 4-7 days. Day 1 expect a sunburned appearance and mild swelling. Day 2-3 expect a slight pinkish-bronzed appearance and swelling subsides. Day 4-7 your skin is typically back to normal. If you have any questions along the healing process, please reach out to us.
After your healing is complete, compare your before pictures to your afters! Most clients see glowing results with just the first microneedling session. It may take three or more sessions to achieve your desired results. You're going to love looking at your reflection again!
Schedule your consultation. We'll work with you to identify if RF microneedling is right for you and your needs. The following are contraindications to receiving RF Microneedling:
Pregnancy or Breastfeeding
Allergy to lidocaine.
Inflamed skin with open lesions
Accutane use within the last 6 months
Chemotherapy or radiation within the last 6 months
Immune system disorders under active treatment
Active cold sores or herpes simplex (We pre-medicate to prevent breakouts.)
One week prior to treatment:
Stop taking NSAID medicines such as Aspirin, Ibuprofen, and Naproxen since they interfere with normal blood clotting. Check medication labels for the active ingredient. If the medication is prescribed, check with your primary care provider before stopping the medication.

You may take Acetaminophen (Tylenol) as needed for pain not to exceed 3000 mg a day, as long as your kidney's are working well.

No treatments such as microdermabrasion and laser.​
Three days prior to treatment:
Discontinue any irritant type topical products or treatments

Products such as Alpha Hydroxy Acids, Beta Hydroxy Acid, Retinol (Vitamin A), Vitamin C (in a low pH formula), scrubs or anything perceived as 'active' skincare.

No prolonged sun/wind exposure, to the area being treated

A treatment will not be administered on sunburned/windburned skin
Immediately after your treatment, you will look and feel like you have a moderate sunburn
Skin may feel warm and tighter than usual
1 day Post-Treatment: Redness and transient edema, skin begins to turn to a condition similar to before treatment.
3 days - 1 week Post-Treatment: Brighter skin tone and significant reduction in sebum secretion in oily skin types.
1 month Post-Treatment: Improvement of fine wrinkles and skin laxity.
1-6 months Post-Treatment: Continuous improvement of fine wrinkles, pores size, scars and skin laxity.
Common expected skin reactions include erythema (redness), edema (swelling), transient pin-point bleeding, and very slight discomfort after treatment.  Pin-point bleeding should stop within minutes after application, discomfort within a few hours and erythema and edema gradually diminishes to normal in 1 to 3 days.
Crusting begins to appear 1 – 2 days after treatment and sloughs off in 3 – 5 days.
Other less common skin reactions include petechia which fade in a few days or bruising (purpura) which can take up to a week to disappear.
Other skin reactions include irritation, itching, and burning sensation. These typically subside in a few hours to 1 day, but may get aggravated with heat or sweating.
CLEAN – Use a soothing cleanser or face wash with lukewarm water to cleanse the face and gently pat dry the treated skin until it heals.

Always make sure that your hands are clean when touching the treated area.

HYDRATE – Use a gentle moisturizer or healing ointment on the treatment area until skin heals.
MAKEUP – Can be applied 2 days after the treatment.

Clean makeup brushes prior to using.

PROTECT – At 24 hours after the procedure, you should apply a broad-spectrum UVA/UVB sunscreen with a SPF 50+, AT ALL TIMES when you will be outside.

Use a physical sunscreen (Zinc/Titanium Dioxide) daily. Do not use chemical sunscreens (oxybenzone, avobenzone, octisalate, octocrylene, homosalate and octinoxate).
Reapply often→ In addition to reducing your future risk of skin cancer, sunscreens also reduce wrinkles and slow the aging process.
To ensure the proper healing environment, be certain to observe the following:
For at least 48 hours post treatment, do NOT use any Alpha Hydroxy Acids, Beta Hydroxy Acid, Retinol (Vitamin A), Vitamin C (in a low pH formula) or anything perceived as 'active' (exfoliative) skincare.
Avoid intentional and direct sunlight for 3-5days. No tanning beds.
Do not go swimming for at least 24 hours post-treatment.
No exercising or strenuous activity or hot showers (saunas, hot tubs, etc) for the first 24 hours post-treatment. Sweating and gym environments are harmful, rife with bacteria, and may cause adverse reactions. The heat from hot showers can cause blistering and hyperpigmentation.
For the next 2 weeks, avoid facial, laser, and waxing treatments. It's a good rule of thumb to wait 2 weeks before doing any other procedures to the area being treated to allow your skin time to heal.