What are PDO Threads? ​
PDO (polydioxanone) threads are dissolvable sutures used to create a nonsurgical PDO thread lift or stimulate your body's natural collagen production. These sutures, used for decades in surgeries, have made their way into the aesthetics field... and rightfully so. When strategically placed, the face can be lifted and held in placed by the sutures. While the sutures are dissolving, the body's repair response is triggered and generating new collagen and elastin around the thread to act as scaffolding once the sutures are dissolved.
What Do PDO Threads Treat?
PDO Max threads provide an exciting new way to treat sagging skin on the face, neck, and body. FDA approved PDO Max Threads are specially designed to anchor to sagging areas of the skin and then pulled to firm and tighten loose skin. They help with facial rebalancing, neck tightening, and body enhancements. These threads address the problems caused by diminishing collagen and elastin. The aging body fails to produce these proteins fast enough which leads to sagging skin and the emergence of wrinkles. PDO Max Threads continue to stimulate collagen production after they are broken down and absorbed. After treatment, you will see an immediate improvement in your appearance.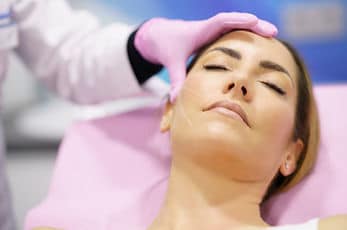 When you arrive for your consultation, we'll discuss your goals, then develop a treatment plan to meet your needs. We want you to feel comfortable and excited about your procedure. Let us know any concerns you have, so we can address them.
The procedure is relatively quick and easy compared to surgical methods. Injectable anesthetic, lidocaine, will be used to minimize discomfort. There is very little discomfort with thread placement. After threads are placed and anchored, they are trimmed and hide below the skin's surface. A small spot bandage is placed over the insertion site. There is no downtime, so you may enjoy the rest of your day.
Recovery is generally quick, with most people returning to work the next day. Soreness almost always occurs after the treatment and resolves after a week or so. You'll want to avoid risking an infection, so no baths or soaking and no excessive exercise or sweating for a week after. Se Post-treatment recommendations provided by Dr. Christine Rooke, CRNP.
Results are immediate and natural looking. The non-surgical PDO lift can last up to 2 years depending on the person. You're going to love your rejuvenated appearance!
One week before exclude: Aspirin, NSAIDs (Advil, Aleve, Ibuprofen, etc.), Gingko Biloba, garlic, flax oil, cod liver oil, paracetamol, St. John's Wort, vitamin A, vitamin E and any other essential fatty acids. This will help decrease the risk of bleeding/bruising.
Avoid chemical peels, lasers, microneedling, and other facial treatments 2 weeks prior to PDO Threads.
No alcohol use at least three (3) days prior to the procedure.
If you get cold sores, ask your provider for a prescription to prevent cold sore breakouts.
You may take arnica tablets (OTC) to help prevent bruising.
Avoid picking and manipulating the suture at the procedure site.  This can cause more bruising, infection, the perforation of the suture through the surface of the skin or the disjunction of the suture to the skin and muscle.
Avoid direct heat such as laser treatment such as IPL or laser hair removal for at least a month.
Avoid baths and use showers for one week following your procedure.
Avoid excessive exercise/sport for one week following your procedure.
For blood clot type bruises (hematomas) you may apply cold compresses gently to the area.
Arnica or Vitamin K may be applied after procedure for 5-7 days for bruising and swelling if needed.
There will be immediate visible results after treatment with suspensory threads, as well as the area feeling tighter. Over the first few days to weeks, the tight feeling will relax to some degree.
Soreness almost always occurs after treatment. There may be a dull pain that typically goes away after a week or two. There will often be discomfort from chewing or any facial movement. Another kind of pain after PDO threads can be described as "twinges", "zingers", or "quick shocks", this is completely normal, and is caused by the threads stimulating a nerve ending. This kind of pain gradually resolves within several weeks after thread placement.
Recovery is generally quick, with most patients returning to work the next day.
Asymmetry or puckering of the skin may occur and typically resolves with time.  If it does not resolve after a week, please contact us.
You may taker Tylenol for pain, especially at bedtime during the first few days
Keep head elevated on several pillows for the first 3 nights after procedure.
Avoid any direct pressure to the face and area where the sutures were placed for one week after the procedure (for example, sleeping face down, excessive chewing, talking, yawning, smiling and other facial movements during the week after your procedure.
You may wash your hair and face with very gentle upward and outward motions that lift the skin in the same directions as the sutures lift the skin.
Banding may appear, which is normal and is nothing to be concerned about.  Applying warm water compresses and time will resolve any banding issues.
If you experience increased redness, fever or drainage from the thread site
If a thread begins to poke through the skin