Medium-Depth Chemical Peel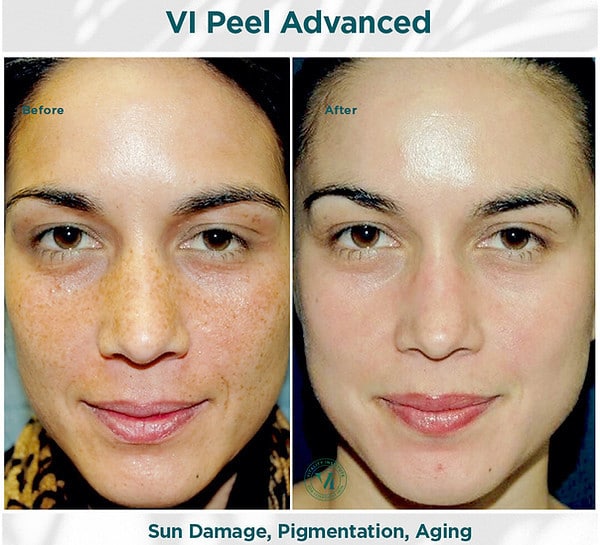 What are Chemical Peels?
Chemical Peels have been around since the 1800's and are a form of collagen induction therapy. Through the application of chemical ablative agents to the skin's surface, we cause controlled damage to the skin and causing these layers to slough off. This process is known as chemical exfoliation. During the healing process, the regeneration of healthy skin tissue occurs, leaving an improvement in the skin tone and texture.
Not all peels are created equal. There are superficial, medium, and deep chemical peels. Superficial chemical peels are best for mild photoaging, acne vulgaris, mild acne scarring, and pigmentary disorders. Medium depth chemical peels are best for mild-to-moderate photoaging, actinic keratoses, fine lines, wrinkles, solar lentigines (brown spots), pigmentary disorders, (melasma, mild to moderate dyschromia) seborrheic keratosis, and superficial atrophic scars. Deep chemical peels are best for severe photoaging (deep wrinkles), pigmentary disorders, premalignant skin tumors, scars.
At Youthful Obsession (YO!™) we offer medium depth chemical peels.
What is VI Peel?
VI Peel is a medium depth medical-grade chemical peel specially formulated to address a variety of skin concerns, including skin rejuvenation for anti-aging, hyperpigmentation, acne, and acne scaring. VI Peel is safe for all skin types, accelerates the results of lasers, microneedling, injectables, and platelet-rich plasma (PRP).
How VI Peel Works
The VI Peel consists of five acid designed to target multiple conditions. Retinoic acid is the powerhouse acid that penetrates the skin, inhibiting melanin production and increasing skin cell turnover. Trichloroacetic Acid (TCA) drives the peel deeper and targets signs of aging by boosting collagen and exfoliating the skin. Salicylic acid prevents inflammation by killing bacteria, suppresses sebum (oil) production, and cleanses the pore lining. Phenol numbs the skin, making the application virtually painless. Ascorbic acid is a powerful antioxidant that reverses free radicals, evens skin tone, and helps prevent future damage.
​When you arrive for your appointment, we'll discuss your goals, then develop a treatment plan to meet your needs. We want you to feel comfortable and excited about your procedure. Let us know any concerns you have, so we can address them.
The procedure is quick and virtually painless. It takes about 20 minutes. After the procedure, we'll review the home care instructions with you. If you have any questions, do not hesitate to ask.
Full recovery is in 7-14 days. Most people peel on days 3-5 and your body will peel what it needs to. Some people peel heavier, while others may not peel much. If you have any questions along the peeling process, please reach out to us.
After your peel is complete, compare your before pictures to your afters! Most clients see glowing results with just the first peel. It may take three or more peels to achieve your desired results. You're going to love looking at your reflection again!
Schedule your consultation. We'll work with you to identify if the VI Peel is right for you and your needs. The following are contraindications to receiving the VI Peel:
Pregnancy or Breastfeeding
Allergy to phenol, aspirin, hydroquinone, benzyl peroxide or any of it's ingredients
Inflamed skin with open lesions
Accutane use within the last 6 months
Chemotherapy or radiation within the last 6 months
Immune system disorders under active treatment
Active cold sores or herpes simplex
Avoid retinols, acids, and other active skin care products for 3-5 days prior to your procedure. Avoid the sun and wind for a week prior to the procedure as your skin can't be sun burned or wind burned. If you wear contacts, consider wearing glasses to avoid getting the product in your eyes. No facials or waxing within a week of the procedure. Bring a hat to avoid the sun of the way home!
Follow the instructions provided in the aftercare booklet and/or download the VI Peel App.
Normal side effects include but are not limited to redness, mild stinging, dryness, mild itching.
During the 7-10 days post-peel: ​

Use the Post Treatment Repair Cream anytime skin feels dry or itchy.
Avoid hot water on the treated area. Lukewarm water is best.
When cleansing the area, use only your fingertips and avoid washcloths, loofahs, or anything abrasive. Cleanse the skin using a gentle cleanser with no fragrance or active ingredients (VI Derm Gentle Purifying Cleanser, Dove, Cetaphil, etc.).
Avoid direct sun exposure on treated areas.
Use SPF 50+ on treated areas when outdoors, including while driving.
Avoid sweat-inducing environments until peeling begins. This includes aerobic exercise, saunas, etc.
Wear loose-fitting, cotton-based products on the treated area.
If any products in the post peel kit sting or irritate beyond your tolerance reach out to your practitioner for options to use instead.
Flaking/Peeling typically begins 5-7 days after the peel is applied. When this begins, remembering the following:
Skin will feel tight or dry right before it peels.
Do not pick, pull, or roll the skin as this could lead to significant irritation and possible hyperpigmentation and scarring.
Peeling may look like light flaking, sheet peeling, or may be barely visible to the naked eye. The amount of visible peeling you will experience varies greatly. You will peel as much as your skin needs to peel.
Flaking/Peeling may last 3-7 days and varies from person to person. If any products in your Patient Aftercare Kit sting or irritate beyond your tolerance, stop and reach out to your practitioner.
Shaving can be resumed after the peeling process is complete.
Waxing can be resumed 2 weeks after peeling process is complete.
Exfoliating products can be resumed 1 week after peeling process is complete.
Swimming/Pools can be resumed after peeling process is complete.
Scheduling the Next VI Peel Body: VI Peel Body treatments should be scheduled every 4-6 weeks (for best results)